Legal Insight. Trusted Advice.
Recent Successes And News
Effective January 1, 2023, New York State is expanding Medicaid eligibility with an increase to resource and income allowances. For New Yorkers who are 65 and over, blind, or disabled, the income amount for Medicaid eligibility will be raised to 138% (from 100%) of the Federal Poverty Level (FPL). In addition, the Medicaid Asset Limit is increasing by 50% for 2023. This is a significant increase, which will allow more New Yorkers to qualify for Medicaid. It will also reduce the number of Medicaid recipients who have excess income.
2023 Medicaid Resource & Income Allowances
All figures are effective as of January 1, 2023.
Institutional/Nursing Home Care:

Applicant Resource Allowance: $28,133
Community Spouse Resource Allowance: $148,620 (maximum)
Applicant Income Allowance: $50
Community Spouse Minimum Monthly Maintenance Needs Allowance: $3,715.50

Community Based Care (Home Care, etc.):

Applicant Resource Allowance: $28,133
Applicant Income Allowance: $1,563
2023 Medicaid Regional Nursing Home Rates
The New York Department of Health has also announced its 2023 Medicaid Regional rates for their assessment as to the average monthly cost of nursing home care in each region. These rates are based on average private pay nursing home costs in each of the seven regions in the State.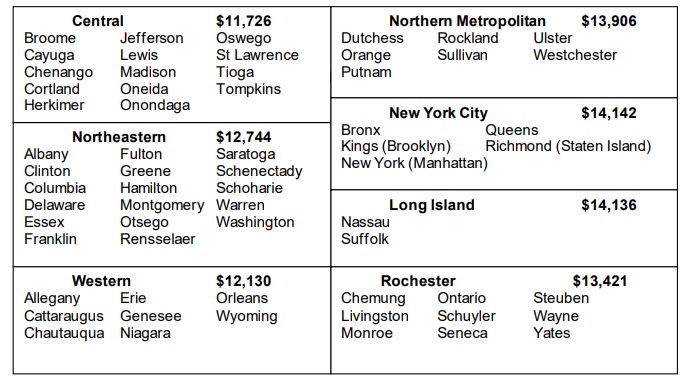 For more information about Medicaid income eligibility and countable assets, and how it affects your Medicaid qualifications, contact our team of Elder Law Attorneys.