Legal Insight. Trusted Advice.
Recent Successes And News: Month:

August 2019
Join Patty and Joann for a complementary coffee and chat! We have answers to your questions and will address your concerns:
What is the difference between Medicare and Medicaid?
How do I qualify for each?
What benefits do they cover?
Can I have both?
Family and friends welcome!
When: Wednesday, September 11th 6:30-7:30pm
Where: Mamaroneck Public Library 136 Prospect Avenue, Mamaroneck, NY 10543
Register today! Phone: (914) 633-7400 or email: jeisele@kboattorneys.com
For more information, visit: www.mamaronecklibrary.org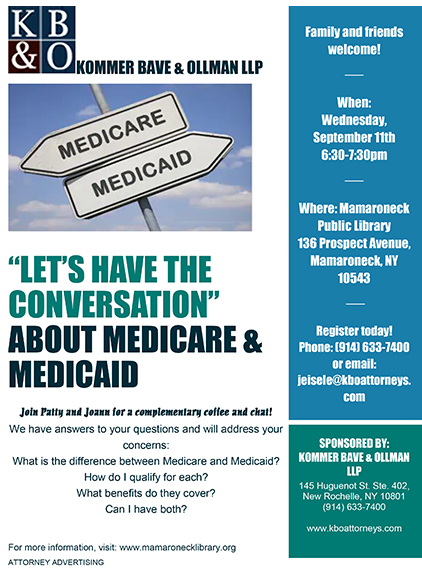 Patricia A. Bave will participate in a panel discussion titled "Making a move? Where do I go from here?" at the Mount Kisco Public Library. The event takes place on September 12, 2019.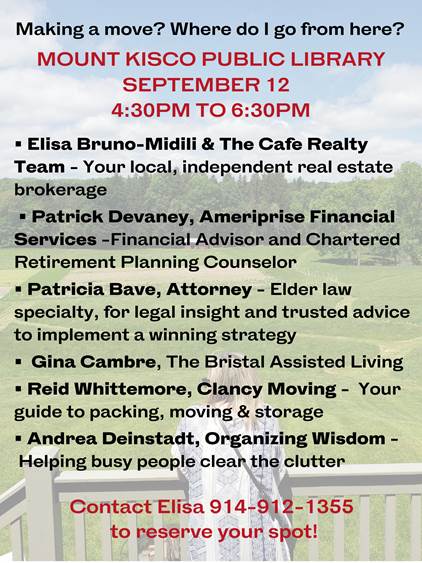 Patricia A. Bave will be a presenter at the September CLE "A Critical Review of Mental Hygiene Law Article 81: How Can the Legal Community Do Better?" Patty will take part in the discussion: Should Non-Lawyers Be Appointed from the Part 36 List as Court Evaluators and /or Property Management Guardians for (Alleged) Incapacitated Persons.